Technology
Designing
---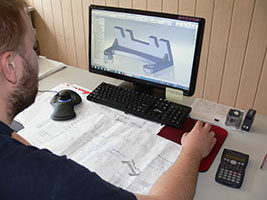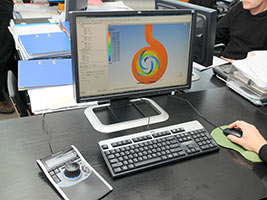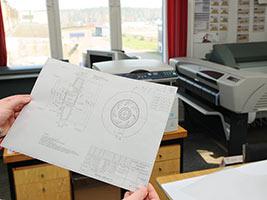 Patterns
---
Hydro-Vacuum S.A. pattern shop can create patterns made of:
metal,
wood,
epoxy resin.
The shop has at its disposal, among others, ultramodern, 5-axis AVIA machining centre with an adjustable head and a rotating table. The device is among the most modern of machine tools, designed to work on five axes simultaneously.
Such machine tools are capable of extremely complex machining on five axes and can attain high smoothness of the machined surfaces. The centres of this series are very effective at comprehensive machining of details with extremely complex spatial shapes such as turbines, components used in the aeronautic, medical, space and electronic industries, as well as the machining of moulds or press tools, and also the machining of precision casing parts from five sides.
X-5 class machining centre construction is based on a cross table moving along the X and Y axes, and a fixed headstock with an adjustable head moving along the guides of the Z axis.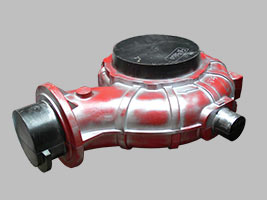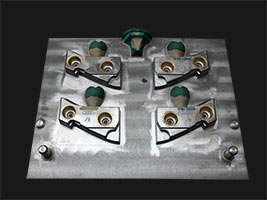 Moulding
---
| | |
| --- | --- |
| The moulding shop operates with automatic moulding lines with vertical or horizontal parting planes, as well as jolt moulding machines | |
moulding type
machine type
size of packet/box/mould
casting weight
mm
kg
wet, in sand moulds (in bentonite masses)
automatic under high pressure (boxless) with a parting plane:
vertical
Loramatic VNN 50 70 A
600x480x150-340
0,1-20,0
Disamatic 2013 MK 3
horizontal
Webac BSM 2620
660x508x(250/250)
0,5-40,0
mechanical jolting jolt-pressing
l 43
410x340 (100-150)
0,2-80,0
500x350 (75-150)
600x450 (100-150)
600x350 (100-150)
FKT 65
600x500 (150-200)
Kunkel Wagner
1100x700 (150)
1400x700 (210)
1750x700 (200)
2000x500 (200)
manual moulding in boxes
manual moulding under crane in boxes
410-340 (100-150)
up to 300,0
500x350 (75-150)
600x450 (100-150)
600x350 (100-150)
600x500 (150-200)
900x700 (150)
1100x700 (150)
900x700 (300)
1100x700 (150)
1400x700 (210)
1750x700 (200)
2000x500 (200)
1200x1200 (300/300)
1750x750 (120/160)
2450x980 (125/300)
shell moulding
Croning FGE
max 600x450
0,12-20,0
min 200x225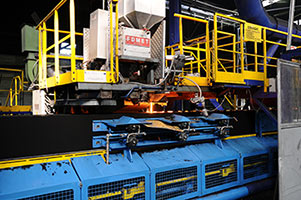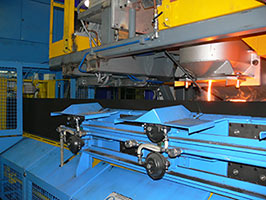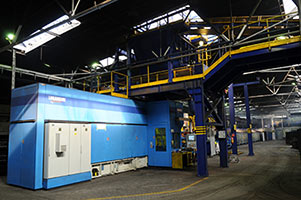 Coring
---
Cores are prepared with the following technologies:
Hot box – hot core box method. U-190 and KMAE40 core-making machines,
Cold box – amine process,
Cold box – CO2-hardened cores. H25 core shooters and manual manufacture.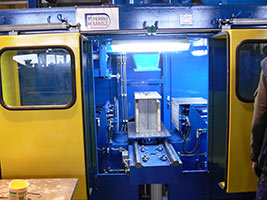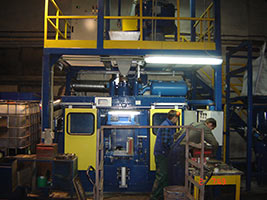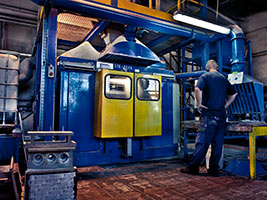 Melting
---
Melting shop: three 1,5-ton, medium-frequency induction furnaces with integrated control systems, working in automatic mode.
Non-ferrous metal foundry – induction furnaces: two-pot, ELZAMET 0,5-ton and INSK 100.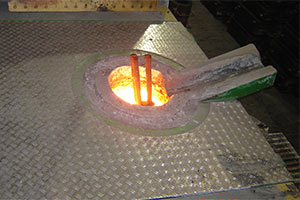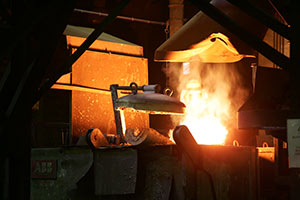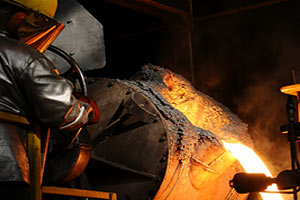 Fettling shop
---
The manufactured castings are cleaned from moulding mass residues, deburred, have their sharp edges grinded and the gating system remains removed. They may be covered with a protective coating.
If the customer wishes, we can perform mechanical machining of castings with various lathes, milling machines, drillers and grinders.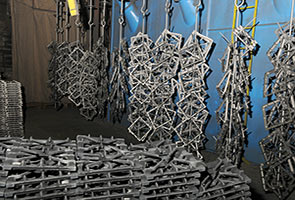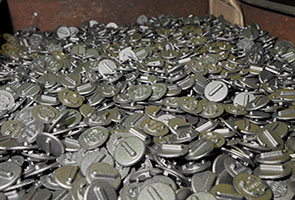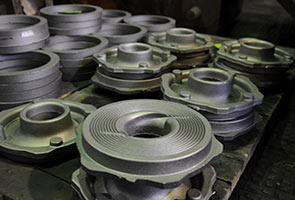 Painting
---
The foundry has a painting shop where paint coats are applied by immersing, spraying and powdering methods. It is possible to use water-diluted and -soluble, one- or two-component paints (type and colour of the coating can be consulted with the customer).
Powder painting is conducted on a modern line that comprises:
one-side varnishing cabin with electrostatic application,

single-chamber furnace with a natural gas-powered heater.
Black and zinc-plated surfaces can be painted in any colour of the RAL palette. We also have an automatic pressure wash for chemical cleaning and preparing surfaces for painting. Our application line has the following working dimensions:
height - 1500mm
width - 750mm
length - 1400mm
Painted elements undergo polymerization at temperatures up to 220
o
C.
Machining
---
The foundry's machining park includes:
CNC universal precision lathes: CTX 510 GILDEMEISTER and CTX 310 eco GILDEMEISTER,
AVIA X-5 1250/630 vertical machining centre, characterized by an adjustable head with the most modern electro-spindle, in-built rotation table of 630 mm diameter and workbench area 1500x700, and shift along the axes x= 1250, y=700, z=725,
AVIAturn lathe, capable for machining of long shafts (up to 1300 mm).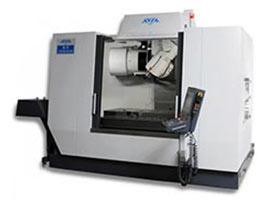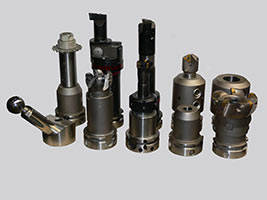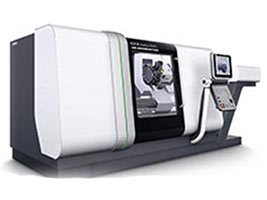 Quality control
---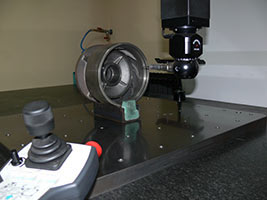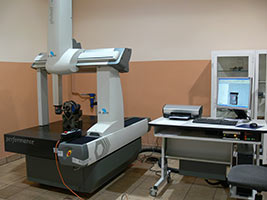 Laboratory
---
Hydro-Vacuum S.A. has its own laboratory, capable of testing the following castings parameters:
dimensional control of castings and foundry equipment using coordinate-measuring techniques,
chemical composition – with wet and spectrometric analysis methods,
microstructure – characteristics of the basic metallographic structures of cast steels and irons – photographs can also be taken,
mechanical properties – tensile strength, yield strength, elongation and impact resistance at room temperature and at sub-zero temperatures of -20oC and -40oC,
hardness – Brinell and Rockwell,
leak-tightness – tests up to 60 bar.
We issue material certificates for the supplied castings, in a scope agreed on with the customer.
The laboratory has a PRS certificate of recognition.