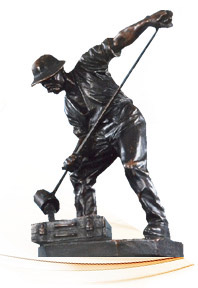 Hydro–Vacuum S.A. is the largest
pump and pump systems manufacturer in Poland
. The company's modernity is strongly supported by experience - the company can trace its roots back to 1862.
Production process management is based on the Integrated Quality, Environment, Health and Safety Management System, complying with the ISO 9001:2008, ISO 14001:2004 and PN-N-18001:2004 standards, which is confirmed by an appropriate
certificate
issued by a notified auditing company.
The foundry uses modern equipment that is non-burdensome for the environment. Metal melting processes utilize induction furnaces, while moulding sands are prepared at an automatic, electronically controlled, vibro-fluidizing disintegrator-cooler sand processing station.
Cores are prepared using the following technologies: oil masses; cold core box with Novanol 140 binder; CO
2
hardening; hot core box; cold-box with amine hardening; both manual and mechanical techniques.
The foundry uses automatic moulding lines with vertical or horizontal parting planes, as well as jolt moulding machines
The production mainly consists of high-quality grey, spheroidal, high-chromium content and copper-molybdenum cast iron castings, as well as non-ferrous castings from MK 80 brass, B 101 and B 555 bronze, etc.
The foundry has its own pattern shop to create wood, metal and epoxy resin patterns.
The foundry is perfect for packet orders that require multiple technologies. The capacity of the plant is approximately 6000 tons per year. The castings are supplied to companies from many countries, including EU countries, and include manufacturers of pumps, fittings, electromechanical devices, actuator hydraulics, energy and heating devices. About 70% of the foundry's production is exported.
The manufacturing capacity of the Hydro-Vacuum S.A. Foundry is based on:
---
Loramatic VMM 5070A - boxless moulding line with vertical parting plane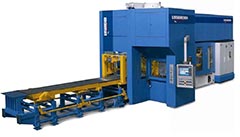 Packet size 600 x 480,
Mould construction with up to an 0.1 mm mismatch
Pattern plates interchangeable with the Disamatic 2013 line
The Loramatic moulding line is characterized by numerous technical advantages that significantly improve the boxless mould manufacturing process. It is fitted with a quick pattern plate change (QPC) device, a core insertion (SC) device, a precision mould conveyor (PMC) and a synchronized conveyor belt (SBC). Total line length is 48 m. The Loramatic line devices are controlled from a panel located in a place easily accessible by the operator. The controller in conjunction with software controls the individual movements of the subsystems (automatic and manual modes), variable operation parameters, the currently manufactured pattern as patterns still in storage, operating time, sprinkling frequency, operating pressure, etc. Moreover, the device is equipped with diagnostic software that consists of the following modules: operations stoppage alarm, production control, shift work, maintenance, hydraulic and electric diagrams, as well as machine subsystem location plans.
PRV2/150 FOMET pouring furnace - used in cooperation with the Loramatic automatic line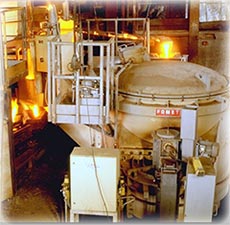 The high efficiency of this furnace type is a result of the direct conversion of electric energy to heat. The inductor conduit (through which liquid metal flows) is located at the bottom of the furnace, a location where constant heat transfer occurs that allows metal to reach the desired temperature. Inflow and outflow siphons end in the lower part of the furnace. Such construction ensures a completely slag inclusion-free pouring. Liquid metal is pumped under gas pressure through the inflow siphon into the pouring conduit, equipped with an outflow protected by pair plug-socket. In such a case, the metal level in the conduit remains constant and depends only on gas pressure. Plug elevation and socket diameter determine metal flow rate and the volume of poured metal.
CNC machining centres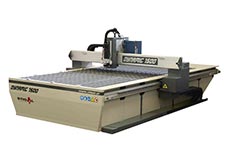 CNC universal precision lathes:
CTX beta 800 GILDEMEISTER
CTX 310 eco GILDEMEISTER
AVIA X-5 1250/630
Plasma sheet cutter
Avia turn rollers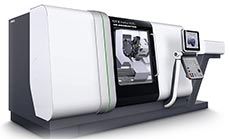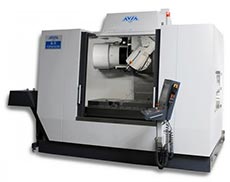 Engineering software
---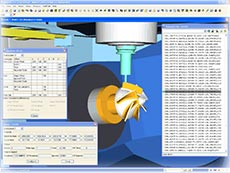 Hydro-Vacuum S.A. foundry utilizes SoliDWorks, CAD, CAE, CAM and PDM programs, all systems intended to support design, process simulation and product information management. They also allow for performing material stress test analysis, kinematic calculations of operating mechanisms and factor flow analysis. Application of this software significantly reduces the number of prototypes required and improves the final quality of the castings.
---